Previously, in Bonita's story:
The Foster Chronicles: It Begins Again
The Foster Chronicles: 'Nita, Week 1
The Foster Chronicles: 'Nita, Week 2
Day 1
We walk. So much walking.
If my two get a walk three days in a row, we can often skip the fourth. Not so with 'Nita. That's the difference between 4 to 6 years old and under 2 years old.
Day 2
I once again guilt myself into leaving her loose in the spare bedroom for the hour I'll be at the gym. She yanks down the curtain and rod while I'm gone.
Day 3
My dogs are in; 'Nita's out. Like the nun in Madeline, I get a feeling that something is not right. I go out to investigate, and 'Nita's not in the yard. I run back inside, equip myself, and go scouting.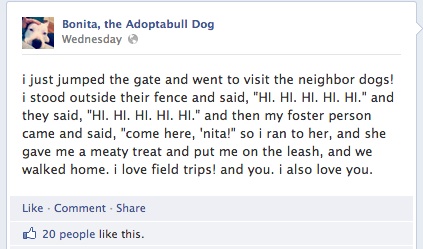 Day 4
'Nita trots outside at 6:00am and goes batshit about a person walking by. I try to teach her about inside vs. outside voice etiquette.
After the long neighborhood loop, I put Violet inside, keep 'Nita on the leash, and let Redford loose. My boy does five goofy laps around the shed ('Nita's dying to join him) and then stands on the porch. I stalk around the yard with 'Nita, encouraging Redford to come closer. He's not interested.
I put him inside and let Violet out, but she won't come within 20 feet of me and 'Nita.
I tether 'Nita to the fence, put Violet on the leash and attempt to do some walk-bys. Violet's OK on the first couple but tenses up pretty quick. The fur on the top of her butt stands on end, and she keeps looking askance at 'Nita.
I switch out Redford for Violet, and he does great! Walks by about six times and then stands near her while I pet both of them.
Progress!
A little bit of progress.
Day 5
While we're on our walk, I pledge to do more walk-bys once we get home. Instead, I sit on the couch and watch about ten episodes of 30 Rock. Side note: I am Liz Lemon.
Day 6
More walk-bys after our walk! Redford's fine but uninterested. Violet plants herself and won't go near. Sigh.
'Nita and I head to Cary for her photoshoot… It does not go well because SQUIRRELS and DUCKS and BICYCLLLLLLLLLLLLES. She's pretty much bananas the whole time and nearly tears my arms out of their sockets. The photographer gets a few good shots though.
Day 7
Up to this point, 'Nita has still resisted the crate. Not as vehemently as before, but when I tell her to get in, she'll jump on the couch and wag wag wag and slither toward one end, like if she didn't Cute me into forgetting what I was doing, maybe she could make herself slip through the couch cushions and hide. It's pretty adorable, actually, so I decided to videotape it… but then!
:D