Your fashion-challenged Avid Bruxist! She is back with another Fix! (Read Part 18 here, and follow the links for previous posts.)
Let's jump right in, shall we? You can probably see from the set of my mouth that this piece had me perplexed. I immediately consulted with Kate.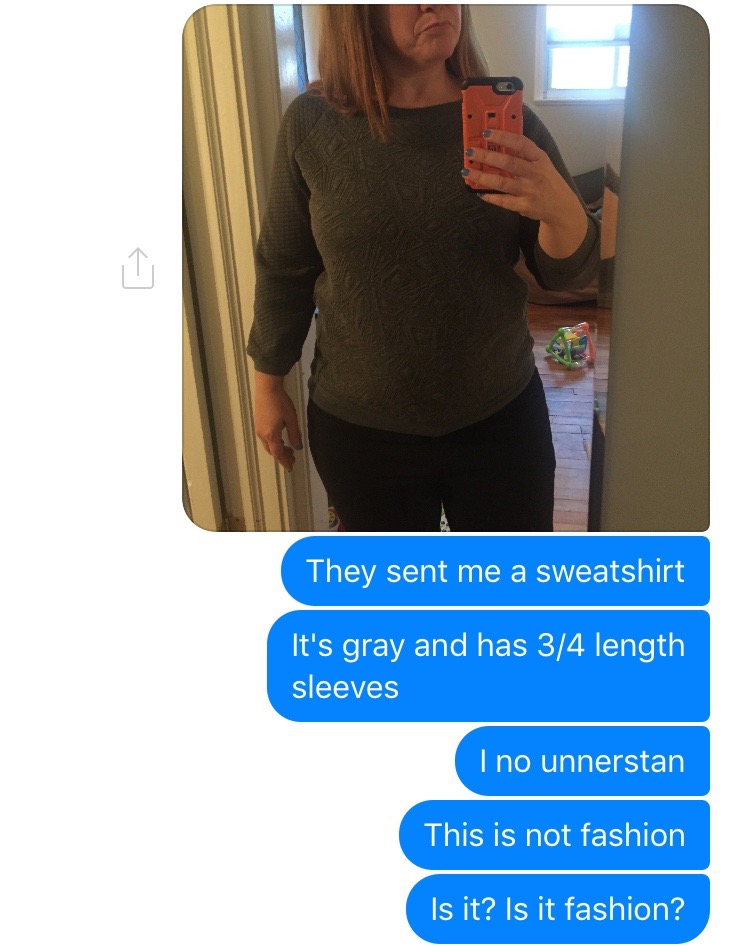 In my opinion, this was amongst the worst things Stitch Fix had ever sent me. Kate surprised me by finding something positive about it.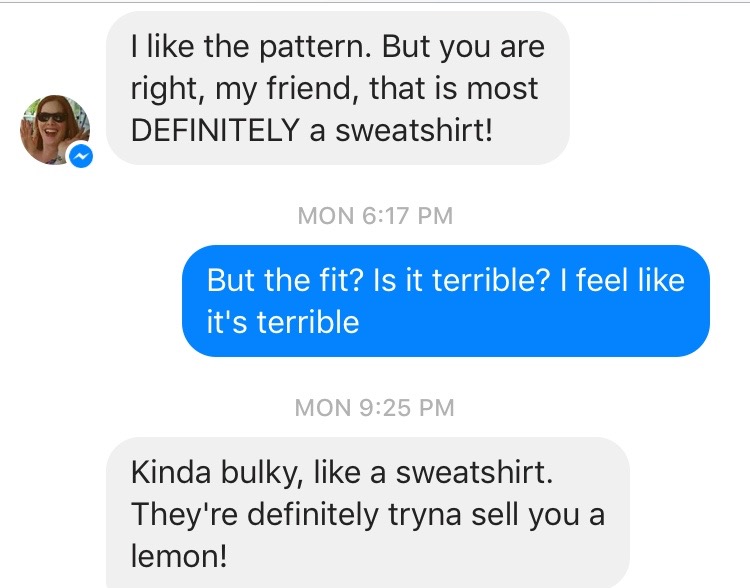 To their credit, once I looked at the package insert, I saw that they called a spade a spade, or in this case a sweatshirt, though they fancied it up a bit: Market & Spruce Torrence Textured Knit Sweatshirt.
Next up were some Soho skinny jeans from Edyson. Stitch Fix, we TALKED about whiskers.
Yikes, "contouring" reminds me I learned that one look four years ago, and I haven't learned a gotdamn thing about makeup since then. (Also, oof, I've aged so much in four years! Kids, man.)
As much progress as I've made in the fayshun department, I still sometimes have no animal instincts about a shirt.
I'm pretty close to my all-time heaviest weight these days, so I do look Jennifer-Animation-possibly-preggers in the pink one, but that's the fault of my gut and not the shirt, and I really did love the color, so I kept it.
For the next bit, we need to travel back in time to when the Avid Bruxist was a fashion noob. Do you recall the here for sex outfit, of which a component was the purple pleather jacket? OK, good, let's carry on.
Note: Although the author may be here for sex, no one else is here for anything other than demanding snacks, strewing toys all over the house, and shitting his pants. As our president-elect would say, SAD!
Honestly, I probably should've returned the jacket because it's really squeezy on my big ol' upper arms, but when Kate says, "Dayyyyyum," and a student says, "You look so fly in that jacket, Ms. Scott!" you keep a thang even if fits like a blood pressure cuff. Maybe it'll make somebody else be here for sex.
Kate didn't answer my question about pleather care though. I googled it, and I guess I was supposed to rub it with baby oil or leather conditioner, but now it's too late. Pieces of it flake off and stick to my neck. Oh! I have an idea! What if I get someone to sew a faux fur collar onto my faux leather jacket? Is that a good idea?! Maybe that's a terrible idea. Like I said, instincts lack.
This might be my last Fix, y'all. I've learned a lot about style and what flatters me, so maybe I can save myself some money and just order stuff from websites? What websites do you guys go to for reasonably priced, fashionable clothing?
If you do want to try Stitch Fix for yourself, please use this link. If you do that, they'll give me a $25 credit.
Stay tuned for future Fixes! Maybe! Maybe not!
______________________
Become my patron on Patreon, and get access to super-secret stuff!
Like Avid Bruxist on Facebook.
Follow Avid Bruxist on Twitter.
Read my other stuff at Fat CrossFitter and Baby Happy Pants.