Your fashion-challenged Avid Bruxist is back with another Fix! Kate, as always, will play the role of consigliere.
Let's jump right in.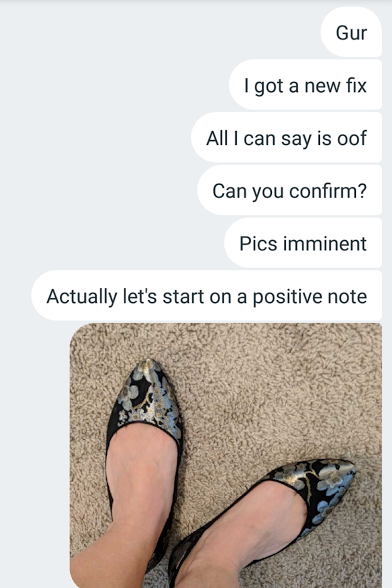 I thought these would be a slam dunk with Kate, but no.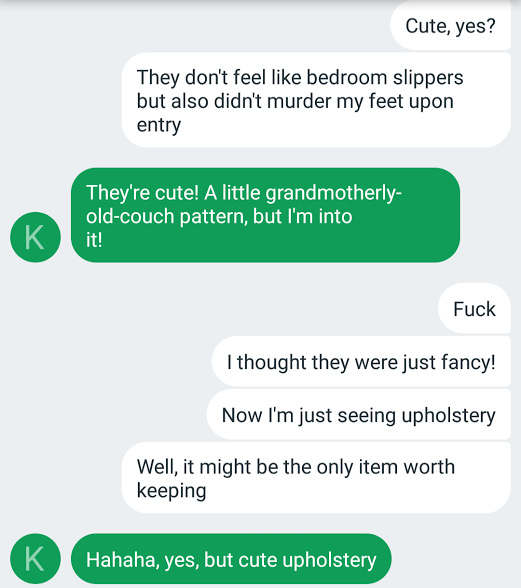 I kept them, but tbh, I haven't worn them yet, so I can't comment on the degree of #footmurder. (More on that topic below.)
For the next item, I had two questions: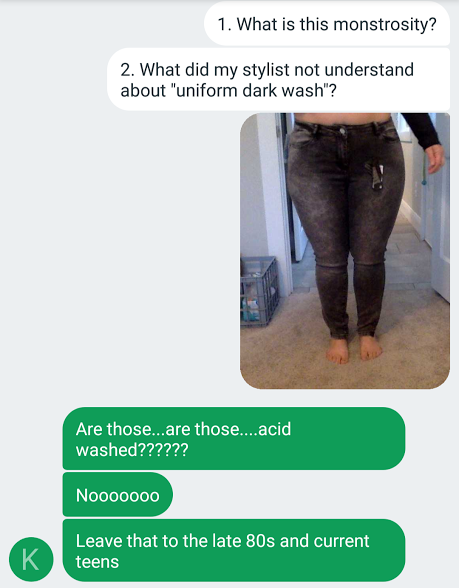 I was glad Kate and I were horrified in equal measure, because seriously, Stitch Fix, what the everloving fuck. Kate said it looked like my pubic hair was outside my pants. Maybe my note to my stylist should've said, "Nothing that resembles a merkin, thx."
Then Kate threw me for a loop-de-loo though because she said, "The upside is they look like they fit real well," and added a bunch of peach emojis. If you're not familiar, that's what kids these days use to express what our generation meant by dat ass. That's right–in my day, we used words.
Anyhow, I was like
Wut
Really?
Because I did not think they made me look good. I thought they made me look exactly how I look, i.e., wide and bulgy.
Moot point because they were in all other ways a catastrophe. Back they went.
Next up were some stretchy slacks. I was leaning toward no because they had a fold in the crotch.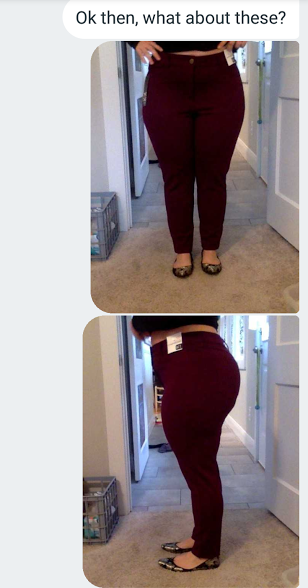 But Kate gave 'em the thumbs-up, said dark maroon was a good neutral and they went well with the shoes. I was psyched about it because I need pants like whoa. Even my fattest pants are hurting my feelings these days.
I've worn them a few times, and they're really comfy, but by the end of the day I have to do a bit o' the ol' heave-ho to keep them around my waist. Suppose I should invest in some suspenders.
For the next item, I had two sads: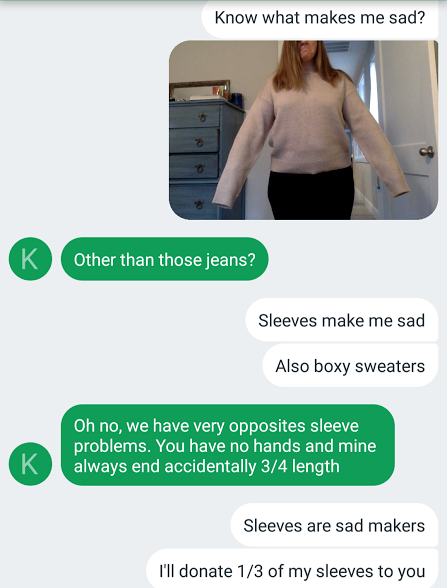 Kate informed me that boxy sweaters are only good on people with 3% body fat, and I haven't had mine tested lately, but I'm guessing like 85-89%?
Sorry, did I say two sads? I meant three.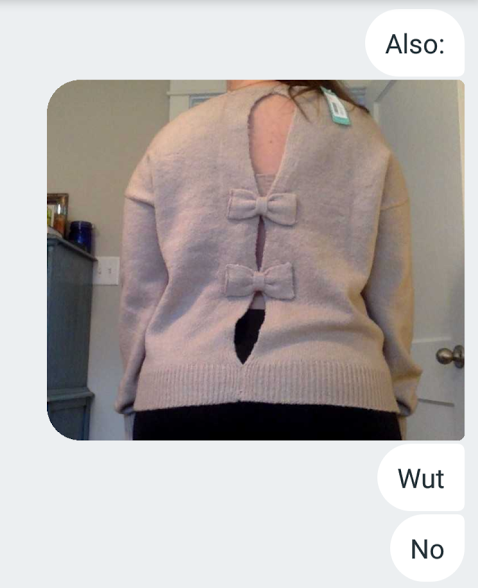 Kate had some strong, specific words.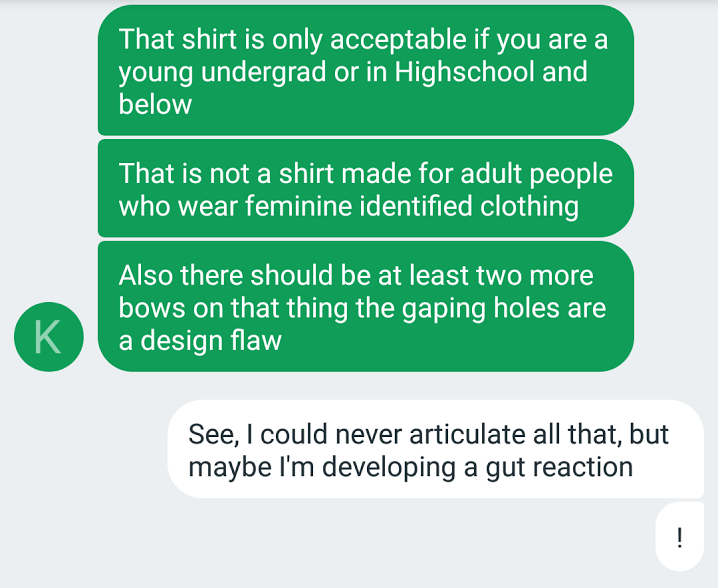 I do feel like I'm able now to tell horrific from fabulous. It's the gray area in the middle I still struggle with, like this shirt: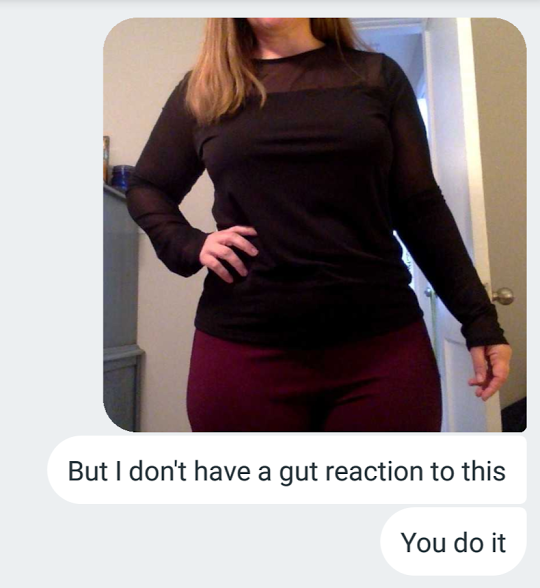 Kate said it was fine, a decent basic, but I have several other black shirts and decided it just wasn't necessary.
By the way, lest you think my life is nothing but glam, here's a behind-the-scenes look at my fashion shoot.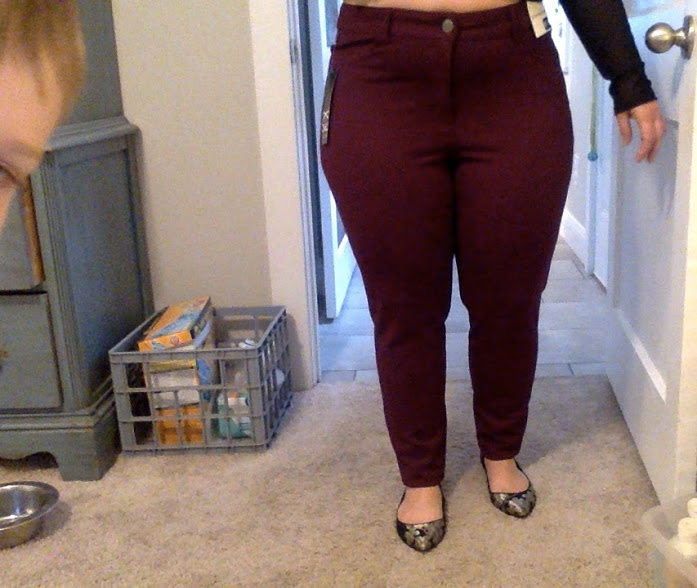 Peek-a-boo.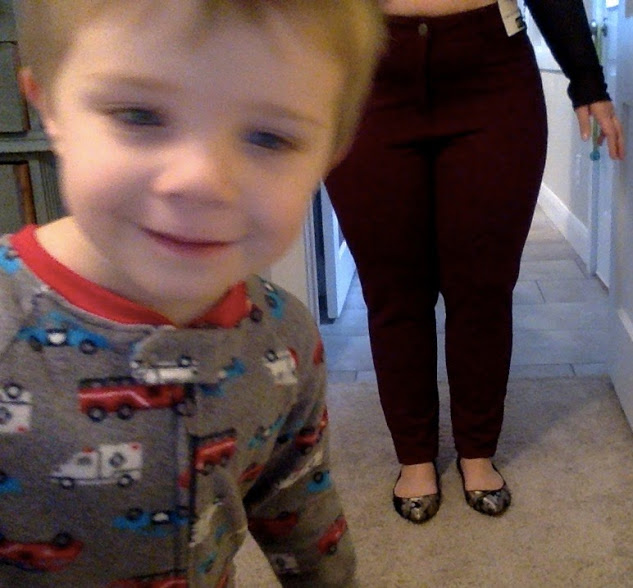 Ohai.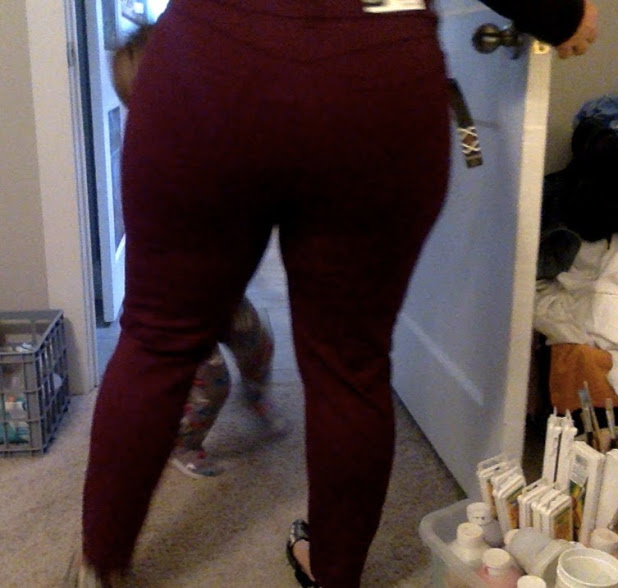 GET OUTTA MY ROOM, SPAWN.
I meant to put in brands and prices again this time, but I lost the paper. They were the usual–brands you've never heard of, and too expensive for the quality but better than <shiver> going shopping.
OK, back to #footmurder. Some friends and readers have made suggestions over the years about flats to try. One person suggested Josef Seibel. In particular, she said that the Pippa flat, though expensive ($115 on Zappos), felt good when she tried them on and after a day of running around. I did some searching, and some of them were really cute, but I've been converted by Kate to Things that Elongate, and now I feel like it's pointy toes or nothing for me. Round-toed flats just seem to highlight my ever-increasing rotundity.
Somebody else recommended Rothys. Also $$$$–specifically 145 doll hairs, but if I used her link, I'd get 20 bucks off. And they had pointy-toed models. And they're made out of recycled water bottles, so that appealed to the lazy environmentalist in me.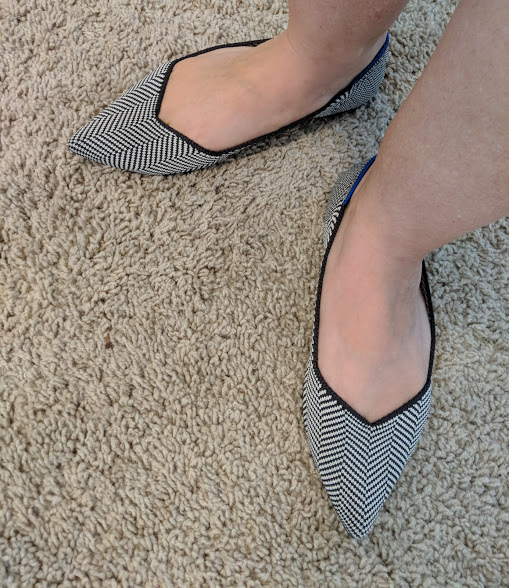 Cute, right?! These might be a game changer because, when I put them on, they felt completely different from other flats–not stiff at all. After a day of wearing them at work, they still rubbed a little on my heel and pushed down on my big toenail. (Do I have freakishly tall big toes?) I think they just need some breaking in, so I'm hopeful.
I also ordered threw some red Lucky brand flats (about $70) in my Zappos cart.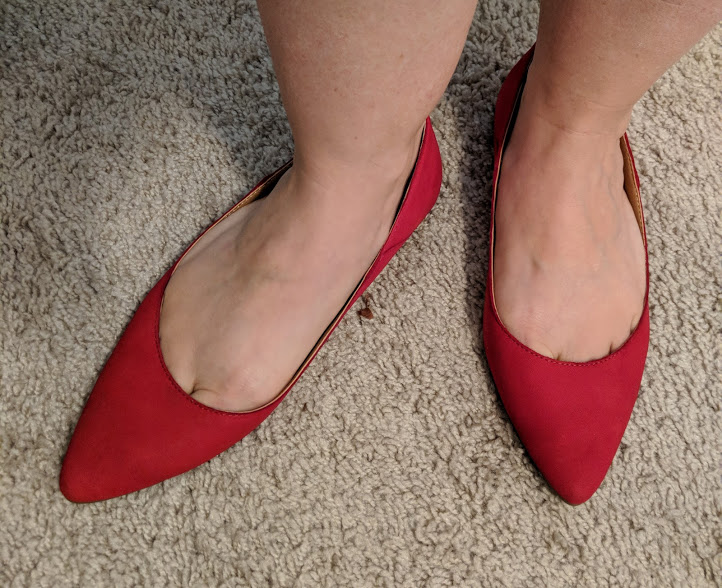 They felt a bit hurty during Day 1 but again may just need some jitterbugging around in. The search for #footjustice continues!
Oh, by the by, Zappos needs to fix its algorithm because I filtered tall boots for wide calf, and well,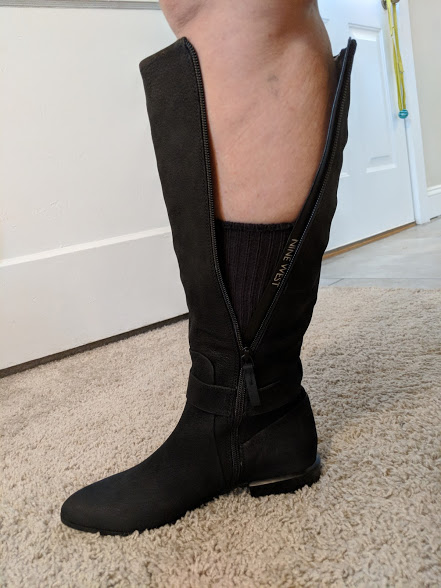 If you want to try Stitch Fix for yourself, please use this link. They'll give me a $25 credit, and I'll keep writing these silly blogs.
Also, if you look at Dasani bottles and think, "Those would look great on my feet," use my Rothys referral link, and we'll both get a discount.
______________________
Become my patron on Patreon, and get access to super-secret posts!
Like Avid Bruxist on Facebook.
Follow Avid Bruxist on Twitter.
Read my other stuff at Fat CrossFitter and Baby Happy Pants.