Last week, I posted my over-the-top profile on OKCupid, just for shits and giggles. (My friend at the gym says, "It's all shits and giggles until somebody giggles and shits.")
I immediately received this email from tangoguy_Raleigh:
That is the most amazing probably honest profile I've ever found. (Those hips are indeed awesome.) I want to meet and recklessly fall in love or run away screaming. You are my dream – possibly a good one, maybe a nightmare. Life is short and the clock is ticking (oh sorry to say it that way). I know I want your body and to hear your laugh. I am old fashioned though; family friendly for the first three dates. 
To say yes, send me a poem.
Funny and straightforward. We set up a lunch date for Saturday, which I could just not get excited about, because I despise the very thought of dating, which is probably why I'm single. So I got on Facebook and asked for motivation (click for bigger):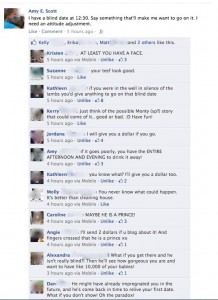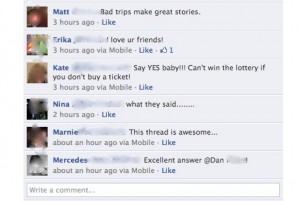 Which is why my friends are my friends.